Why Do Life Insurance Policy Benefits Get Denied?
Material misrepresentation is often the culprit
By Adam Langino | Last updated on February 8, 2021
Florida personal injury attorney Jason Turchin works on a ton of life insurance claims each year. And of the 100 or more cases his firm dives into annually, no claim is more common than that of material misrepresentation.
These claims essentially boil down to: Did the signee misstate the answer to a question while applying for a life insurance policy that would have affected their coverage?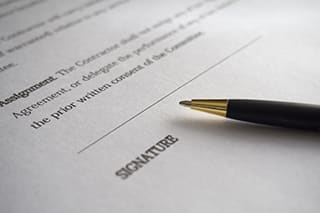 "On policy applications, there are two general statements that people sign their name to," Turchin says. "One is, 'I hereby attest that everything in this application is true and correct.' And then, on some applications: 'I hereby attest that everything in this application is true and correct to the best of my knowledge and belief.' And the second standard is more lenient, because it's effectively asking what the insured themselves believe to be the truth."
For example, he continues: "If a person doesn't know medical lingo when the application asks if they've ever had a medical condition, and in their mind the answer is no because they've never heard it—even if the doctor wrote that lingo in the records—the claim is still payable," he says. "It's a different standard than if the statement was: 'I hereby attest that I don't have any of these.'"
Turchin notes that insurers will try and prove, through records, that a doctor wrote that a patient had a specific ailment. But the doctor will need to be deposed to prove whether they explicitly and specifically used that language with the patient. "These cares aren't always as clear as the insurance company wants them to seem," he says. "When people pay their premiums for a long time, expecting coverage, the incentive for the insurance company is to figure out any reason not to pay."
Insurance companies, Turchin says, "have a right to request all your medical records for the last five or 10 years. And they're going to compare the records with the questions on the application. If there's anything off, they're going to deny the claim, and maybe send you a refund for a misrepresentation on the policy application."
If Turchin's firm gets a call for material misrepresentation on a life insurance policy, and there's any question the coverage might apply, they'll generally take the case. Life insurance attorneys work on a contingency fee, meaning the client doesn't ever have to pay out of pocket. 
Once a firm has taken the case, the lawyer will request a copy of the life insurance policy from both the beneficiary and the insurance company. Then, a demand letter for the policy benefits will be sent, and the company can either pay the benefits or explain why they are denying coverage. Often, if the company denies coverage, Turchin will respond by filing a declaratory judgment action against them, wherein he'll ask a judge to declare that the coverage applies.
"In Florida, if there's any question of whether or not coverage should apply, the courts generally defer to affording coverage, not denying it," he says. "If people ever have a question on a claim that was denied, let a life insurance attorney like us review it. Oftentimes, there's a lot of mistakes that the life insurance companies make."
Turchin notes that, generally, these cases either get resolved on summary judgment, get settled, or go to trial. And if a lawsuit is filed, federal court cases often resolve in about a year from filing, and state cases take approximately two years on average. His firm has had, however, cases settle as fast as within 20 days of filing.
"We've recovered millions of dollars in life insurance claims that were denied or delayed over the years," he says.
For more information on this area, see our insurance coverage law overview.
What do I do next?
Enter your location below to get connected with a qualified attorney today.
Additional Insurance Coverage articles
Attorney directory searches
Helpful links
Find top lawyers with confidence
The Super Lawyers patented selection process is peer influenced and research driven, selecting the top 5% of attorneys to the Super Lawyers lists each year. We know lawyers and make it easy to connect with them.
Find a lawyer near you