The Ins and Outs of a Personal Injury Claim in Indiana
What you need for a successful lawsuit, according to personal injury attorneys
By Steph Weber | Reviewed by Canaan Suitt, J.D. | Last updated on July 25, 2023 Featuring practical insights from contributing attorneys Jeffrey S. Wrage and Ashley N. Hadler
Use these links to jump to different sections:
Personal injury is a broad category, ranging from medical malpractice and product liability to wrongful death and injuries sustained from a car accident or fall.
But, at its core, "someone must be hurt by the fault of someone else," says Jeffrey S. Wrage, a personal injury attorney and partner at Blachly, Tabor, Bozik & Hartman law firm in Valparaiso.
What Are Common Types of Personal Injury Cases?
Cases—and potential recoveries—aren't limited to bodily harm. Emotional and psychological trauma qualifies, as do lost earnings, as well as the loss of love, care and affection of an injured or deceased spouse. Most critical to pursuing a claim, though, is establishing liability. Someone must be at fault.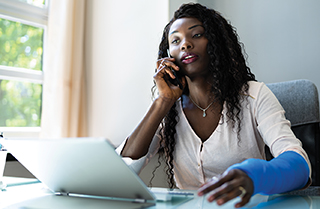 "We always spend the first conversation learning about what the injury is, how it occurred, and determining who might be accountable or responsible," says Ashley N. Hadler, a personal injury attorney at Garau Germano in Indianapolis.
In a slip-and-fall case, for example, the questions Hadler will ask of a potential client include:
What did the business or injured party know before the accident occurred?
What did the business do to address it?
Did the injured party do something to contribute to the fall?
What Is the Process for Indiana Personal Injury Cases?
While most personal injury cases settle with a one-time payment long before reaching trial, a small percentage require more complex legal proceedings.
For example, before filing a medical malpractice lawsuit in Indiana, you must file a claim with the Indiana Department of Insurance and go through a medical review panel. "If you're suing an emergency room doctor, then there'll be a medical review panel made up of three emergency room doctors," says Wrage.
The panel determines if a breach in the standard of care occurred and the extent to which it resulted in injury. "If you don't agree with the panel decision or the other side won't settle, then you can file your lawsuit in court," he says.
How Long Does a Personal Injury Lawsuit Take?
The process often takes years, and state-mandated caps limit recovery. "Even if you have a child who's injured during the birth process who requires lifelong care and medical treatment," says Hadler, "the absolute maximum that can be paid to that child in a medical malpractice case is $1.8 million, when their lifetime care might be in the tens of millions."
An incident resulting in a permanent injury that limits a person's physical or mental functioning generally follows a lengthy timeline also.
"You're going to go through paper discovery, where both sides are figuring out all the information and taking statements under oath," says Wrage. "Most permanent injury cases result in a lawsuit, but statistics will tell you that roughly 98 percent of personal injury lawsuits get settled before a trial. The more a person is hurt, the less likely it is to resolve without filing a lawsuit."
Are Employers Responsible for Employee Conduct?
Hadler, who focuses on cases involving sexual assault and nursing home negligence, recently brought a claim against an alternative school where her female client was abducted and assaulted by a boys' program mentor.
"Under Indiana law, employers are responsible for employees' conduct while they're in the course and scope of their employment," says Hadler. "We are alleging that the program didn't have proper policies and procedures in place to prevent male mentors from interacting with female mentees," ultimately leading to the girl's harm.
Although uncommon, personal injury claims may include suicide. When a psychiatric inpatient died by suicide, despite being checked on by staff every 15 minutes due to previous attempts, Wrage successfully pursued a case against the facility.
In a journal supplied by the facility, the patient had penned a poem about self-harm and then taken his life in a similar manner. Staff did not regularly review the contents of the journals. Had the treating psychiatrist known, the patient would have been placed on constant monitoring instead.
"This is a mental health facility, where you are an inpatient," says Wrage. "They have to take care of you, and they didn't do this properly."
What Is the Statute of Limitations for Personal Injury Claims?
The statute of limitations for filing most personal injury claims is just two years from the incident date. However, when the at-fault party is a governmental entity, you have to first send a tort claim notice, sometimes within six months.
"It's important for people to seek legal advice to determine their rights as soon as possible," says Hadler, "because of the strict limits that are in place."
Find an Experienced Indiana Personal Injury Lawyer
An experienced personal injury lawyer can help you through the process. To learn more about this area of law, see our overview on personal injury law.
What do I do next?
Enter your location below to get connected with a qualified attorney today.
Additional Personal Injury articles
Attorney directory searches
Helpful links
Find top lawyers with confidence
The Super Lawyers patented selection process is peer influenced and research driven, selecting the top 5% of attorneys to the Super Lawyers lists each year. We know lawyers and make it easy to connect with them.
Find a lawyer near you