Common Reasons to Create a Trust in Maine
When a simple will simply won't cut it
By Super Lawyers staff | Reviewed by Canaan Suitt, J.D. | Last updated on May 4, 2023 Featuring practical insights from contributing attorney Kurt E. Klebe
Use these links to jump to different sections:
Every adult in Maine should have a will. It is a foundational estate planning document that will help to ensure your wishes are carried out.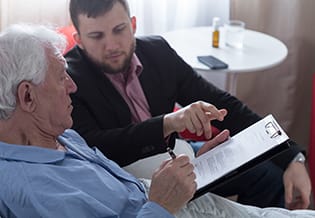 However, a will is not always enough. You may want to consider setting up a trust to pass assets to your heirs. A trust is a fiduciary relationship in which you appoint a third party called a trustee to hold legal title to the assets you put in the trust. The trustee then distributes the trust assets to your named beneficiaries when you pass away.
This raises an important question: What are the reasons to create a trust in Maine? The short answer is that trusts can be an efficient and effective way to transfer assets. Below, you will find an overview of the benefits of creating a trust in Maine.
What are the Benefits of Setting Up a Trust in Maine?
Trusts are popular estate planning tools because they offer a number of potential benefits.
Maine's state law (including the Uniform Probate Code, the Uniform Trust Code and the Uniform Principal and Income Act) is pretty flexible and up-to-date, says Kurt Klebe, an estate planning attorney at Verrill in Portland. "We have as much flexibility as our legislature has deemed to be prudent in administering trusts, making them beneficiary friendly and able [to be changed] in the future if their terms are unwieldy or inappropriate for some reason," he says.
Here are three factors to consider when deciding whether to use a trust to pass property or assets to beneficiaries.
Protect Your Family's Privacy
One big advantage of a trust document over a will in Maine, Klebe says, "is that a trust is a private document, where a will is a public document. So, when you die, your will gets admitted to probate, and it becomes a part of the public record. And in Maine, at least, it's searchable online."
If you have sensitive family issues such as varying treatment from one heir to another or have a child with a disability, want to preserve the privacy of loved ones or devisees, or have charitable bequests, a trust allows you and your family to maintain confidentiality. If privacy is important to you and your family, a trust may be the best option.
Avoid the Probate Process
While in many states, the probate process can be expensive and time consuming, that's not the case in Maine.
"In most cases, even if the decedent's assets pass outside of a will—for example, they pass by beneficiary designation or they're in a trust already—I would still frequently recommend going through the probate process anyway in Maine," Klebe says, "Because you get the benefit of a shorter creditors' claims period."
If you have property in multiple states, avoiding probate may be advantageous. However, setting up a trust may not be enough in that case. "To avoid probate [in all jurisdictions], you actually have to take action during your lifetime and transfer your assets into your trust, so it's a two-part process," Klebe says. "And, if you're going to do it, you should do it comprehensively."
Maintain Flexibility and Control
Finally, trusts are flexible and allow the grantor (creator) to keep full control over the course of their life.
For example: "You can use [a revocable trust] during your lifetime as a kind of a proxy for either somebody acting under a power of attorney or somebody being appointed as your guardian or conservator to manage your property if you're incapacitated," Klebe says. And, in Maine, you can revise or even revoke most types of trusts. If your circumstances change, your trust can also change.
There's another potential benefit to having a trust in Maine, Klebe says, although it might not be helpful for everyone. "Maine is also a little bit of a tax haven for people who establish trusts that become irrevocable outside of the state of Maine and then move into the state of Maine," he says.
For example, an irrevocable trust established in Massachusetts that moves to Maine because there's a Maine trustee would not be considered a Maine trust for Maine tax purposes. At the same time, it would cease to be considered a Massachusetts trust for Massachusetts tax purposes. "What you end up with is a trust that is taxed in no state," Klebe says. "It's not like knocking the ball out of the park helpful … but in some cases, if the trust is large enough, it's material."
Find the Right Option for You and Your Family Members
As useful as trusts can be, they are not the right option for every family. "You have to balance the complexity of having a trust against the simplicity of having a will," Klebe says. "There's a cost element involved. An estate plan that just includes a will is going to be less expensive than an estate plan that includes a will and a revocable trust."
An estate plan should always be customized to suit the unique needs of you and your family, and that's where an experienced Maine estate planning lawyer can help.
For more information about this and related areas of law, read our overview articles on estate planning, probate and estate administration, trusts and wills.
What do I do next?
Enter your location below to get connected with a qualified attorney today.
Attorney directory searches
Helpful links
Find top lawyers with confidence
The Super Lawyers patented selection process is peer influenced and research driven, selecting the top 5% of attorneys to the Super Lawyers lists each year. We know lawyers and make it easy to connect with them.
Find a lawyer near you