What If You Suspect a Will Was Tampered With?
The process of contesting a will in Georgia
By Super Lawyers staff | Reviewed by Canaan Suitt, J.D. | Last updated on May 4, 2023 Featuring practical insights from contributing attorney Craig M. Frankel
Use these links to jump to different sections:
During the probate process, a person's last will and testament is identified and confirmed. The estate is settled and property and assets are distributed to the appropriate heirs. But what should you do if you believe that your loved one's will was subject to fraudulent altering or tampering?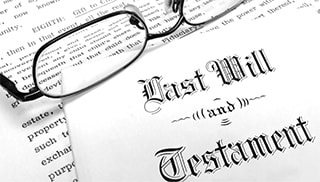 It is possible for a will to be fake, although it is rare. Why? "To probate a will, you have to go to a court, and the witnesses have to swear that they saw you sign it and that it's a genuine document," explains Craig M. Frankel, an estate and trust litigation attorney at Gaslowitz Frankel law firm in Atlanta.
"So you've got a third party, in addition to the lawyer who may have drafted it." Even wills drafted without a lawyer, such as those done online, still require witnesses.
Even so, if you believe a will was unlawfully altered, take immediate action to protect your rights. In Georgia, you have the right to contest (challenge) an invalid will. Here are four steps to take.
You Must Identify Specific Grounds for a Will Contest
A will can be tampered with in a number of different ways. If you are preparing to challenge a will in Georgia, you must select a specific cause of action. Some of the most common reasons why wills are contested include:
Undue Influence: Undue influence occurs when someone improperly pressures a vulnerable person into changing their will. It is a very factual argument and is grounds to challenge a will, Frankel says. One common example of undue influence is when a caregiver coerces an aging person who is highly reliant on them to adjust their will to the caregiver's benefit. "And they're afraid to do anything different because they're afraid they won't be taken care of," Frankel says. Undue influence can occur at the hands of a caregiver, family member or anyone who may have been able to influence the decedent while they were alive.
Lack of Capacity: Under Georgia state law, a will that was altered after your loved one lost the legal capacity to reasonably understand the consequences of their actions is not valid. "Lack of capacity is not that stringent a test," Frankel notes. They must understand generally what they own, who they're related to, and be able to articulate a disposition scheme: "Here's what I own, here's who's naturally related to me, and here's what I want them to get," he explains.
Outright Fraud and Forgery: You can contest a will on the grounds that it is fake or some of its contents have been unlawfully altered by another party. "Someone did something that changed it, either by forging the signature or changing a provision," Frankel explains. "And frankly, with today's digital technology, you can make a fake document look pretty good."
Errors in Execution: There are specific rules surrounding how a will is executed, Frankel says. So if any of those rules were not followed, it could be grounds to challenge the will.
Gather as Much Relevant Evidence as Possible
To successfully contest a will in Georgia, you need strong and compelling evidence. What exactly this means will always depend on the specific facts of the case. That being said, you need evidence that indicates that the will was improperly or unlawfully altered and that the contents of the current version of the document are not consistent with the true last wishes of your loved one.
When you challenge a will, you bear the burden of proof.
"And that's difficult sometimes, because you weren't there when the will was signed," Frankel says. For example, if you're trying to prove lack of capacity, "You're not talking about, 'Were they nuts when they died,' you're talking about, 'Were they nuts when they signed the document,' which may have been 10 or 15 or 20 years ago," he says.
Know the Statute of Limitations to Challenge a Will
It is essential that you act proactively if you are considering contesting a will. If you've received a notice that a will is being probated, you only have 30 days from the date you were served with that notice to file an objection, or caveat. "And in that caveat, you'll say what you think. You'll say I think it was forged, it wasn't signed properly … whatever it is you'll say," Frankel says.
Once the caveat is filed, the probate process is put on hold until any challenges are resolved, meaning that distributions cannot be made until your objection is addressed. "You can't distribute anything that's controlled by the will until you have an administrator appointed with authority," Frankel says.
Consult With a Georgia Probate Litigation Attorney
Probate law cases are notoriously complex—especially if you are challenging the will on the grounds of fraud, undue influence or lack of capacity. While you are not required to have an attorney to challenge a will, Frankel doesn't recommend trying to do it alone. "This is a difficult thing to do," he says. "You're not going to succeed much without a lawyer."
Why? "The complexity, the burden of proof—how you go about proving it," Frankel says. "How are you going to prove somebody was unduly influenced? How are you going to get a witness to show up in court? How are you going to get the medical records? How are you going to get a copy of the documents from the lawyer? Are you entitled to it? If the person really did something wrong and your challenge is justified, it's not likely they're going to cooperate with you."
It's also important to find an attorney with specific experience contesting wills. "You want a lawyer who understands it," he says. Lawyers who don't often handle these types of cases may not know certain rules that can dramatically impact your case. "If you're really challenging [a will], you want somebody who's going to be able to assess [the case], you want somebody who's going to know the court and know what the procedures are in the court," Frankel says. "It's the probate court. It is a different judge and a different system with different rules."
If you have any specific questions about contesting a fraudulent will, contact an experienced Georgia estate and trust litigation attorney for immediate assistance. A probate litigation attorney will help you gather the evidence and build the case you need to challenge a fraudulent or otherwise illegitimate will.
For more information on this area of law, see our overviews of estate planning, wills, trusts, probate and estate administration, or estate and trust litigation.
What do I do next?
Enter your location below to get connected with a qualified attorney today.
Additional Estate & Trust Litigation articles
Attorney directory searches
Find top lawyers with confidence
The Super Lawyers patented selection process is peer influenced and research driven, selecting the top 5% of attorneys to the Super Lawyers lists each year. We know lawyers and make it easy to connect with them.
Find a lawyer near you